Matatau
Oct 23 2020 - Jan 24 2021
Te Manawa Museum of Art, Science and History, Palmerston North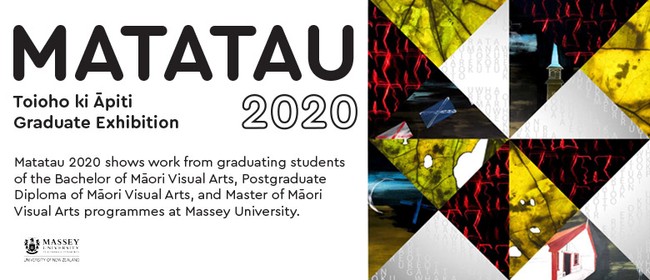 About
Matatau presents works by graduating students of the Bachelor of Māori Visual Arts programme at Toioho ki Āpiti, as part of Toioho XXV, a super-exhibition celebrating the 25th anniversary of the school's founding.
Unique to Massey University, Toioho ki Āpiti privileges Māori visual arts, Māori language, Māori culture and Māori customs. The Toioho ki Āpiti pedagogical model for the Bachelor of Māori Visual Arts is structured around Māori notions of mana whakapapa, mana tiriti, mana whenua and mana tangata.
The valued relationship with directors and staff, past and present, of Te Manawa has provided the public space in which we have been able to showcase Toioho ki Āpiti since 1998.
Physical Address
326 Main St, Palmerston North
Other Important Info
All Ages
Free
Category: Contemporary Art
Monday: 10:00am–5:00pmTuesday: 10:00am–5:00pmWednesday: 10:00am–5:00pmThursday: 10:00am–7:30pmFriday: 10:00am–5:00pmSaturday: 10:00am–5:00pmSunday: 10:00am–5:00pm
Facilities / Features
Carpark
Wheelchair Access
Toilets
Please note this information should be used as a guide only. To help ensure your safety we advise you review our safety page and contact the individual provider for up to date information on their compliance with all Health and Safety and regulatory requirements.