Bugs! Our Backyard Heroes
Oct 22 2020 - May 1 2021
Te Manawa Museum of Art, Science and History, Palmerston North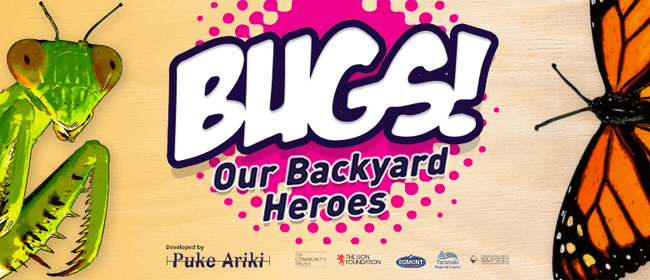 About
Bugs are amazing!
You might think of them as small, hairy and a bit scary, but they can do things that can't be done by anyone or anything else. They're a vital part of our ecosystems; they help our country maintain biosecurity, and they keep your own backyard in good environmental health. They have some pretty special talents, and BUGS! will introduce you to them all.
There's a huge range of creatures to discover on your journey through this exhibition, you'll meet some living creepy crawlies – cockroaches, locusts, even the famous Avondale spider! Learn the science of bugs as you discover local insect species, and find out about all kinds of bugs from around the world, each with incredible powers.
Bugs! is filled with insect-related activities. Step inside a big "tree" to learn what it's like to be a tree wētā, switch on a microscope to see bugs up super close, camouflage yourself like an insect and see what you can hide from, and assemble your own "super bug" from all the best bits of bugs of all kinds! There are hours of fun and learning to be had.
See these tiny creatures as you've never seen them before. Bugs are our backyard heroes – come in and get to know them.
Physical Address
326 Main St, Palmerston North
Other Important Info
All Ages
Free
Category: Natural History
Monday: 10:00am–5:00pmTuesday: 10:00am–5:00pmWednesday: 10:00am–5:00pmThursday: 10:00am–7:30pmFriday: 10:00am–5:00pmSaturday: 10:00am–5:00pmSunday: 10:00am–5:00pm
Facilities / Features
Carpark
Wheelchair Access
Toilets
Please note this information should be used as a guide only. To help ensure your safety we advise you review our safety page and contact the individual provider for up to date information on their compliance with all Health and Safety and regulatory requirements.