AFC Motorcycles North Island Sidecar Champs
Feb 29 2020
Central Energy Trust Arena, Palmerston North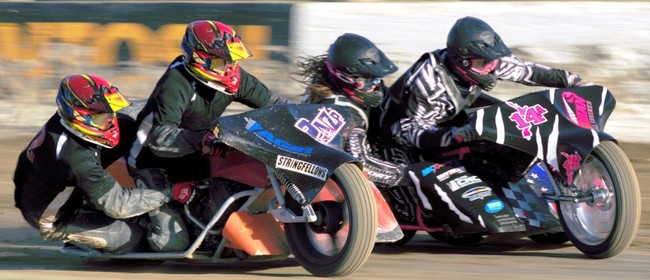 Cost: Adult (16 years and over): $25.00Children (8-15 years): $10.00Family (2A + 4C): $60.00Under 7 years: $0.00
About
There will be plenty of action from the Sidecars when they compete for the AFC Motorcycles North Island Sidecar Championship. These riders and swingers are crazy as they race at high speeds in a class where brakes are illegal and racing is rubbing!
The Manawatu Youth MiniStock Champs will be hotly contested by skilled drivers aged from 12 to 16 years in a class that is non-contact but accidents do happen!
Expect plenty of action from the metal crunching Stockcars and the fast and furious SuperStocks!
Keep back from the safety fence!
Practice from 4pm so you can check out the race cars and their drivers before the action gets underway!
Find us on Facebook and keep up to date with what's happening at the Robertson Holden International Speedway!
Physical Address
61 Pascal St, Palmerston North
Pricing
Adult (16 years and over): $25.00Children (8-15 years): $10.00Family (2A + 4C): $60.00Under 7 years: $0.00
Other Important Info
All Ages
Category: Motorsport
Monday: 8:00am–5:00pmTuesday: 8:00am–5:00pmWednesday: 8:00am–5:00pmThursday: 8:00am–5:00pmFriday: 8:00am–5:00pm
Facilities / Features
Carpark
Box Office
Wheelchair Access
Toilets
Food Available
Guided Tours Available
Please note this information should be used as a guide only. To help ensure your safety we advise you review our safety page and contact the individual provider for up to date information on their compliance with all Health and Safety and regulatory requirements.